Press Release
Deep drive immediate growth for renowned gold and silversmith, Thomas Lyte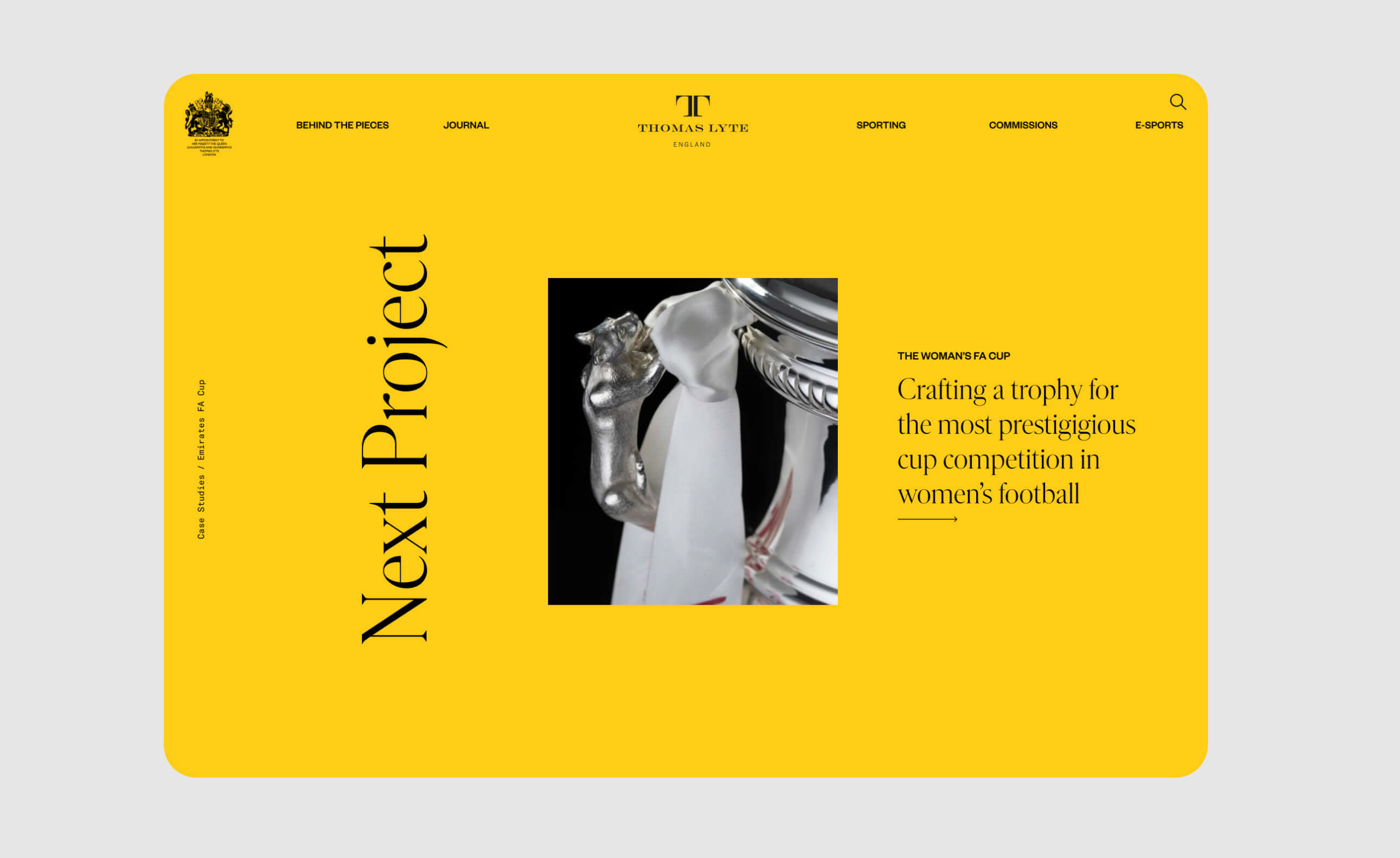 Independent creative design agency Deep have created a striking new website for Thomas Lyte, the renowned Goldsmith and Silversmith and Royal Warrant holders founded and based in London, England. The new website reinforces Thomas Lyte's position at the forefront of this respected craft, celebrating the coming together of traditional skills and leading-edge technology, through combining bold design, dynamic transitions and more traditional elements including a new accent colour and the choice of primary typeface.
Since recently launching, the new website has driven a rise in enquiries, improved the quality of enquiries and directly contributed to immediate growth in new markets for Thomas Lyte.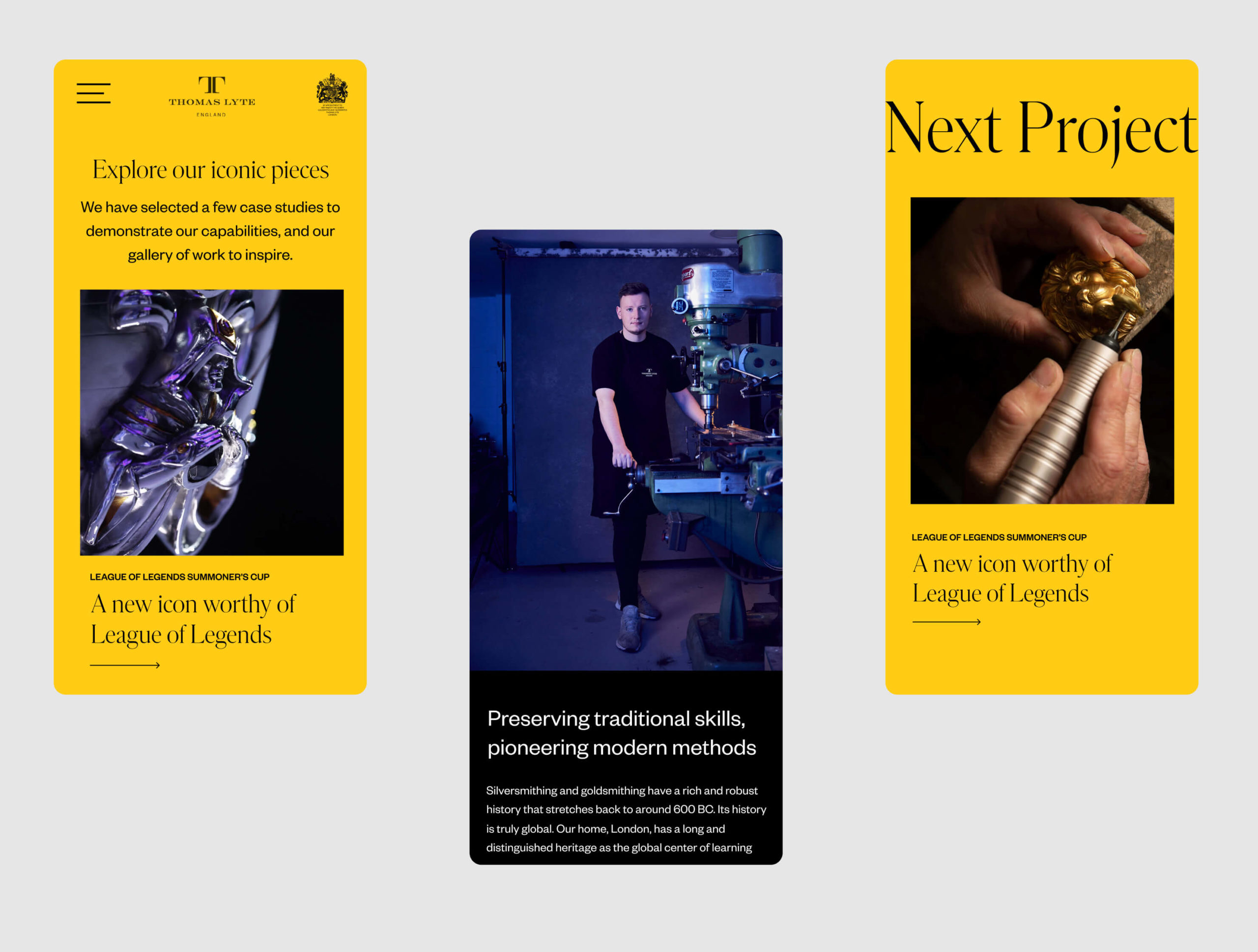 Deep began by working closely with Thomas Lyte to understand founder and CEO Kevin Baker's passion for preserving and advancing British craft, a core reason for the brand's inception, and how vital it was that the website be both modern whilst also respecting the mastery of traditional craftsmanship and the heritage of the brand.
Liam Malorey-Vibert, Head of Marketing at Thomas Lyte commented: "When embarking upon our search for an agency to help us achieve our vision for our new website, we knew we needed a talented nimble design agency that understood both luxury and the value of craft. Deep ticked all the boxes and more. We were really impressed with the level of quality of both the initial concepts and the final execution that matched our own ambitions. I was personally delighted with the level of collaboration we were able to achieve between our team and Deep's highly motivated staff, which culminated in a highly adaptable website that reflects our brand as we see it and has both delighted internal stakeholders, and impressed our clients and partners."
Thomas Lyte are known around the world as designers and makers of world famous, elite sporting trophies such as the Emirates FA Cup trophy. They have forged long-standing partnerships with some of the largest and most prestigious organisations across professional sport. Thomas Lyte's master craftspeople also produce exquisite bespoke objet d'art, all by hand, including the Queen Elizabeth II Processional Cross gifted to Her Late Majesty on her Platinum Jubilee, and many other bespoke commissions. Deep developed the concept of 'made for this moment', the focus of the hero animation created for the new website's homepage to instantly excite and entice users and showcase the breadth of Thomas Lyte's capabilities as world class silver and goldsmiths. The idea behind 'Made for this moment' was inspired by once-in-a-lifetime, unforgettable moments. Whether it be the pinnacle moment of a global sporting event such as the final lifting of a winner's trophy, the celebration of a personal life event, or honouring a lifetime's achievement, Thomas Lyte's unique pieces celebrate this special moment in time.
Charlie Eiles, Brand and Digital Strategy Director and partner at Deep commented: "Thomas Lyte was the ideal client for Deep. With an exceptional and unique service, we knew that we really could push the creative to position them as 'best in class'. Our vision was to create an online experience that mirrored the energy and pride that comes from being honoured with a sporting trophy or award. We've evoked this ceremonial joy by creating fast-paced animated content that plays the hero within the website."
The website has both delighted internal stakeholders, and impressed our clients and partners.
Liam Malorey-Vibert, Head of Marketing at Thomas Lyte