Deep thoughts
Creativepool Awards 2023 Shortlisted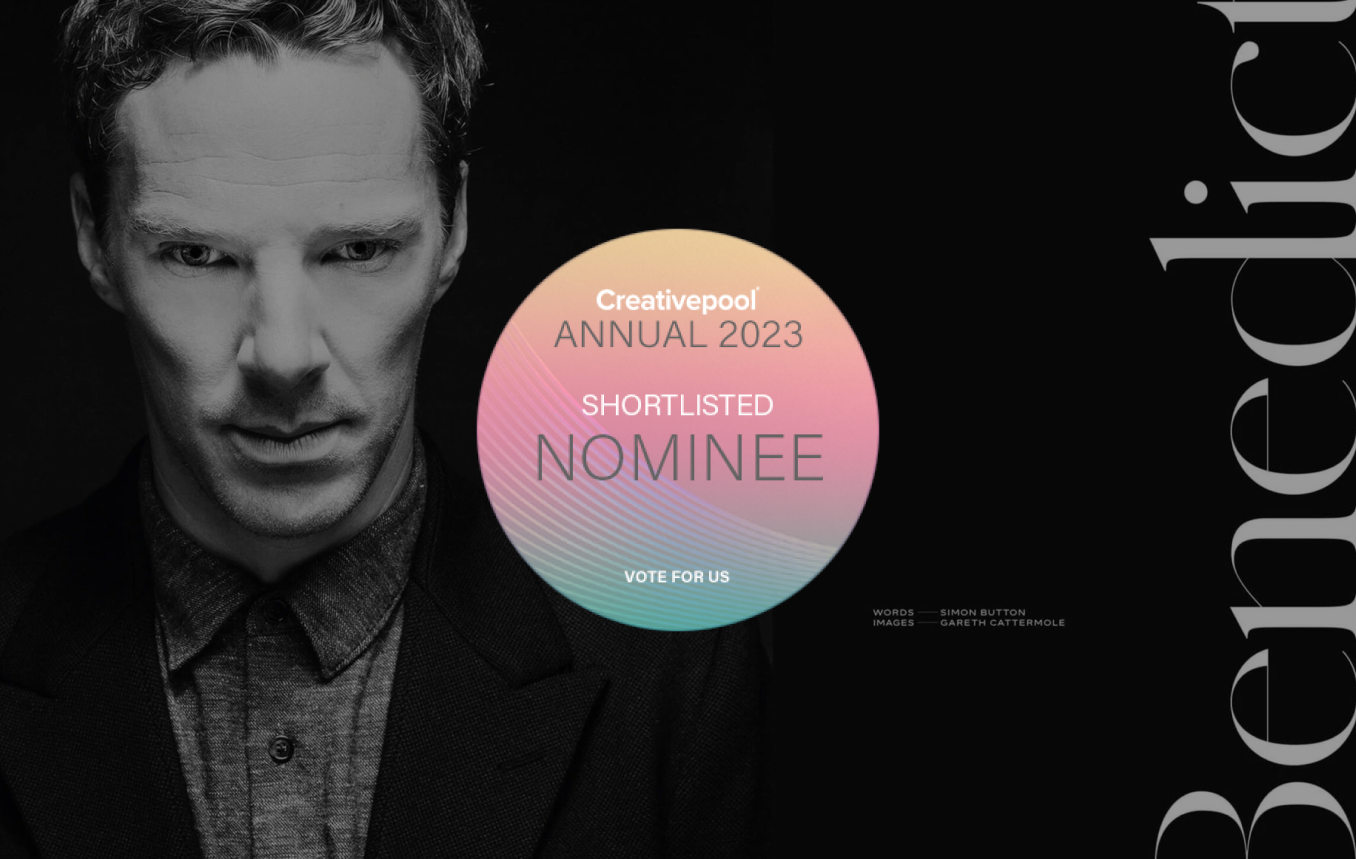 We are delighted to announce we have three projects shortlisted for the 2023 Creativepool Awards:
Lansdowne Magazine – Publishing Category
With a rich heritage dating back to 1763, The Lansdowne Club re-imagined itself as a leading private members' club in 1935. Today, it is one of the most exclusive private members' clubs in London.
We designed a new limited-run magazine that reflects the club's eclectic mix of the historic and contemporary. The new publication brings together leading writers and photographers to create an intelligent editorial mix.  Covering a broad range of topics from the arts, design, fashion, business, cars and food, the design of the magazine reflects the London club's own mix of elegance and modernism.
Thomas Lyte Website – Web Category
Thomas Lyte approached us with the need for a drastic shift in their digital presence and market positioning that better represented them as world leaders in trophy making and design. Thomas Lyte are makers and designers of some the worlds most iconic sporting trophies: The FA Cup, The Rugby World Cup, & The Hundreds Cricket.  The website needed to reflect them as a modern English brand embracing the modern techniques and processes of trophy making whilst not forgetting about their heritage as a traditional silversmith.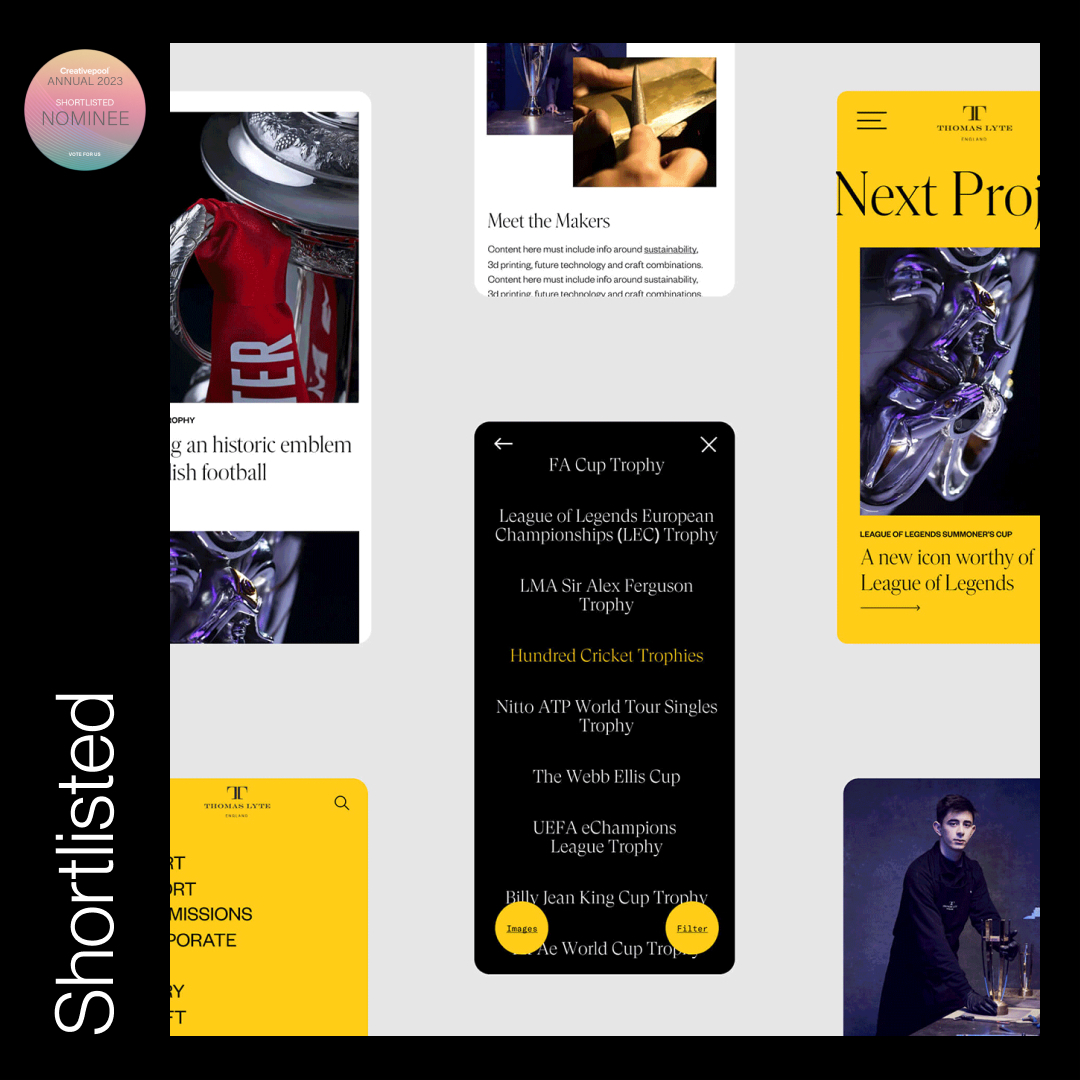 We identified the need to mimic the experience of award-winning was crucial. To win an award and be part of its ceremony is a true celebration, and that celebration being just as much about the preparation as much as the final winning performance. We knew we had to capture this sense of intense excitement and adrenalin in Thomas Lyte's new website. The copyline 'Made for this Moment' encapsulates this concept and is used as the ethos for all content creation.
We created a bespoke experience, showcasing a gallery of trophies and medals as well as focusing in on 6 magnificent case studies to demonstrate the work and the process that goes into each piece. With our newly created motion graphics and multi-media content we have managed to capture a modern and forward thinking brand that has been carefully considered to still be appropriate for a Royal Warrant holder.
"Since recently launching, the new website has driven a rise in enquiries, improved the quality of enquiries and directly contributed to immediate growth in new markets for Thomas Lyte. We were really impressed with level of quality of both the initial concepts and the final execution that matched our own ambitions. I was personally delighted with the level of collaboration we were able to achieve between our team and Deep's highly motivated staff, which culminated in a highly adaptable website that reflects our brand as we see it and has both delighted internal stakeholders, and impressed our clients and partners. Deep have helped drive immediate growth for renowned Gold and Silversmith Thomas Lyte with creation of new website."
Liam Malorey-Vibert, Head of Marketing at Thomas Lyte
Heal's Extended Enjoyment – OOH Category
The iconic London-based furniture and homeware brand is extending their flagship store to encompass an entire ground floor block on Tottenham Court Road. Heal's wanted to promote this new, expanded space as a location that customers can physically experience and go to enjoy the iconic pieces of design that they sell.
We developed the campaign line 'Extended Enjoyment' as a connection between the physical extension of the store, Heal's timeless designs, and the furniture's long lasting quality, all of which mean 'extended enjoyment' for the consumer. A graphic image treatment of extending product imagery visualises the campaign line and mimics the store extension that always goes to the left, whilst further developing a flexible 'split' graphic system that Deep introduced when we rebranded Heal's in 2020. Bold graphic arrows are derived from some of Heal's heritage posters, another nod to the brand's longevity. Animations add weight to the campaign and make it more immediate and impactful on social channels.
The Tottenham Court Road store was triumphantly officially re-opened on 28th April, supported by the campaign that was pushed through digital marketing channels, outdoor advertising and in-store promotions, to contribute towards driving footfall to the iconic flagship store in the coming months.
To vote for us visit Shortlist – Creativepool Annual 2023